¡Feliz Cinco de Mayo!
1. DON'T PANIC, GLOBALIZATION MOSTLY HARMLESS, PACE SWINE FLU
Bret Stephens at the Wall Street Journal opines that the worries over the swine flu are overcooked, at this stage anyway.
The primary fear aired by most commentators is that the flu will have the same effects as the Spanish Flu of 1918-19, but, as Stephens observes:
"Hasn't medical science made some progress in the past 90 years? An article in yesterday's Times of London notes that in 1919 the recommended precautions included mustard baths, Bovril (a salty meat extract, apparently), and salt water for gargling. Also, 'the good effects of wine continue to be emphasized, and most agree in selecting port as the best of these.'

Now we know better. Now, also, there are not several million exhausted and frightened men living in filthy conditions and close quarters along two sides of a 450-mile front. Or troops and sailors being moved in crowded trains and crowded ships, or being treated in overcrowded hospitals. And at least in Western cities, it is no longer typically five-to-a-room in squalid tenement housing.

These details matter because, as science writer Wendy Orent has pointed out in the New Republic, 'only the precise conditions of World War I's Western Front--a true disease factory--could have created a flu as virulent as the one responsible for the 1918 pandemic. ... The virus didn't need to keep people well enough to walk about--fresh victims were close at hand.'

Sure enough, no flu pandemic has been even remotely comparable: The worst was the Asian flu of 1957-58, which killed an estimated two million people, including 70,000 in the U.S. (or about twice the annual average.) That's been true despite the more than tripling of the world's population, the advent of factory farming, 'climate change' and planeloads of potentially disease-bearing people bouncing between Mexico City and Hong Kong and New York and Paris."
Well put and worth reading, though the potential of a incredibly lethal pandemic taking place in our time is not something to laugh off, and I think the recommendation of Judge Posner I linked to yesterday is well-considered--see
Daily Sources 5/4 #1
.
2. EUROPEAN COMMISSION'S FORECAST PRETTY GRIM, WAGES FALLING IN THE US, UK AND JAPAN WHILE DEBT EATS UP A LARGER AND LARGER SHARE OF DISPOSABLE INCOME
Rebecca Wilder at News N Economics reports that in the European Commission's spring forecast released yesterday it announced it expected EU GDP to contract by fully 4% in 2009 before stabilizing in 2010.
The Commission's graph: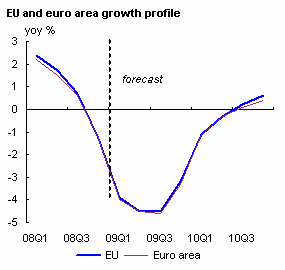 The Commission expects unemployment to rise to 11% in the EU by 2010 as well. Moreover, inflation, or the Harmonized Index of Consumer Prices (HICP), is expected to fall to a bit less than 1% in the EU and 0.5% in the eurozone (or those countries within the EU which have adopted the euro as their currency.) HICP is expected to rise in 2010 to about 1.5%.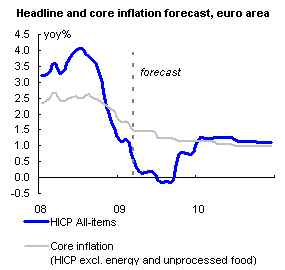 (The EC's site includes an illustrative interactive map including the individual economic forecasts of all EU members, which can be found
here
.)
Mike Shedlock at Mish's Global Economic Trend Analysis notes that wages are falling in the US, the UK, and Japan.
Mr. Shedlock notes that disposable income, or income after taxes, is still growing, overall, though at a steadily declining rate. His chart:
Mr. Shedlock suspects that were the top 10% of earners taken out of this graph that it would indicate negative disposable income growth. Anecdotally, I would too--and for some time, and suspect that a considerable portion of overall growth for the top 10% has been the simple redistribution of wages from one class to another and via an economy whose health is predicated upon economies of scale, ie, selling products to the very people that are being paid less over time. Shedlock comments:
"Notice that DPI growth became very weak in the era of biggest debt growth, yet it was strong when debt growth was subdued. So much for the notion that inflating money supply and credit 'creates wealth'."
Shedlock notes that household debt now takes a 14% share of disposable income, up from 11% in the 1990s, and that the broader category of household financial obligations now accounts for 19% of disposable income. He concludes that it looks unlikely that the mountain of consumer debt will be paid off. His post really should be read in full.
3. CHINA THINK TANK SAYS GDP TO GROW BY 7% IN 2Q AND CLSA PMI ECHOES OFFICIAL PMI INDICATING EXPANSION; NEW LOANS FALL ON 1Q, BUT STILL 30% MORE THAN LAST YEAR IN APRIL, ANDY XIE SAYS THE CURRENT FINANCIAL REGIME PUNISHES SAVERS, IE THE CHINESE, WHILE ED HARRISON SAYS THE CHIANG MAI INITIATIVE IS A FIRST STEP FOR ASIA TO DECOUPLE FROM THE WEST, BUT EICHENGREEN NOTES THAT THE PRIMARY MARKET MAKER FOR THE ALTERNATIVE CURRENCY--THE SDR--WOULD NATURALLY BE THE IMF, THAT WHICH THE CHIANG MAI INITIATIVE IS PUTATIVELY TO REPLACE!
The Associated Press reports that the State Information Center, an official think tank based in Beijing, forecast that the Chinese economy will grow by 7% in the second quarter on the strength of the stimulus package.
The State Information Center's report predicted that even so exports would fall by an annual rate of 20.2% in the second quarter and that imports will fall even further, by 25.5%. The recovery will thus be based on goosing domestic demand.
"To that end, state-run banks, largely insulated from the credit crunch in other markets, have heeded government orders to back growth, issuing 4.6 trillion yuan ($673 billion) in new loans in the first quarter of the year, 20% more than in all of 2007."
The story also mentions that CLSA Asia Pacific Markets released its PMI on Monday with a reading of 50.1 for April, echoing the official government PMI which showed a rise to 53.5. (I admit I found the CLSA finding that manufacturing is beginning to recover surprising. Part of the reason is the story from
Xinhua today that the State Grid Corporation of China released preliminary data indicating that power generation in the country was down 3.55% in April from a year previous
. China has experienced year over year declines in power generation for the last seven months. The official figure will be released by the China Electricity Council later this month.
"The official figure for April was likely to slide about four percent year on year, indicating an economic recovery was still some way off, the China Daily newspaper cited a source familiar with the matter as saying."
But I suppose PMI surveys are leading indicators in contrast to power generation data. Still,
Lu Jianxin and Edmund Klamann at Reuters report that new renminbi denominated loans have fallen by nearly 70% in April from March to 600 billion yuan, according to the state-run China Securities Journal.
However, 600 billion yuan is still 30% more credit extended in April from a year earlier.
"'Although new loans fell sharply month on month in April, market watchers believe the scale and growth were more reasonble than in the first three months,' the newspaper said, quoting unnamed banking sources.

'It is forecast that new loans in May and June will not fall sharply from April.'"

Meanwhile, Andy Xie, former chief economist for Asia Pacific at Morgan Stanley, has an opinion piece in the Financial Times which argues that the Keynesian response to the financial crisis is pushing China toward an "alternative financial system," after which the dollar will collapse. Key excerpt:
"The global environment is extremely negative for savers. The prices of property and shares, though having declined substantially, are not good value yet and may decline further. Interest rates are near zero. The Fed is printing money, which will eventually inflate away the value of dollar holdings. Other currencies are not safe havens either. As the Fed expands the money supply, it puts pressure on other currencies to appreciate. This will force other central banks to expand their own money supplies to depress their currencies. Hence, major currencies may take turns devaluing. The end result is inflation and negative real interest rates everywhere. Central banks are punishing savers to redeem the sins of debtors and speculators. Unfortunately, ethnic Chinese are the biggest savers.

Diluting Chinese savings to bail out America's failing banks and bankrupt households, though highly beneficial to the US national interest in the short term, will destroy the dollar's global status. Ethnic Chinese demand for the dollar has been waning already. China's bulging foreign exchange reserves reflect the lack of private demand for dollars, which was driven by the renminbi's appreciation. Though this was speculative in nature, it shows the renminbi's rising credibility and its potential to replace the dollar as the main vehicle of wealth storage for ethnic Chinese."
Well worth reading in full.
Edward Harrison at Credit Writedowns figures that the Chiang Mai Initiative is a sign that the process of abandoning the dollar is already under way.
Mr. Harrison provides some background:
"You will recall that the Asians were forced to go cap in hand to the IMF for bailout funds after the Asian Crisis in the late 1990s. This experience was very humiliating for some and caused extreme hardship as the IMF programs were rather severe and deflationary. Resentment toward the IMF remains as a result. I see this development as an explicit measure to exclude the IMF in Asia."
This possibility was identified some time back by C. Randall Henning at the Peterson Institute in a paper published in late February. Simon Johnson argued that the great coup pulled off by the Obama Administration in the London G20 meeting was to open up the selection process for the managing director of the IMF, likely meaning that a candidate from an emerging economy like Brazil will be chosen to lead the organization next (as opposed to a European), in return for opening up the selection process for the World Bank, traditionally held by an American, and probably meaning that a Chinese candidate will take the helm of that organization next. (See
Daily Sources 4/3 #3
.) Nonetheless, Harrison remains concerned, concluding:
"Asia looks poised to break away from the West, dare I say de-couple. I am loathe to use that word because the inter-connectedness of the global economy has meant that negative demand-side shocks in the West will be felt in Asia as well. Nevertheless, Asia looks to be developing an Asia-only dynamic and re-focusing on internal trade and politics. This is good for Asia, but, for the West, not so much."
Further, if SDRs are to be the basis of an alternative reserve currency,
Barry Eichengreen notes in the Gulf Times that the obvious candidate for a market maker in SDRs would be the IMF
:
"If China is serious about elevating the SDR to reserve-currency status, it should take steps to create a liquid market in SDR claims. It could issue its own SDR-denominated bonds.

Better still, it could encourage other G-20 countries to do likewise. They would pay a price, since investors in these bonds would initially demand a novelty premium. But nothing is free. That price would be an investment in a more stable international system.

Of course, an earlier attempt was made to create a commercial market in SDR-denominated claims. Back in the 1970's, there was some limited issuance of SDR-denominated liabilities by commercial banks and SDR-denominated bonds by corporations. But these efforts ultimately went nowhere. The dollar being more liquid, its first-mover advantage proved impossible to surmount.

Overcoming that advantage now would require someone to act as market-maker for private as well as official transactions and subsidise the market in its start-up phase. The obvious someone is the IMF. The Fund could stand ready to buy and sell SDR claims to all comers, private as well as official, at narrow bid/ask spreads competitive with those for dollars."
In which case perhaps abandoning the IMF or decoupling the Asian financial system from the West could prove counter productive. Prof. Eichengreen's essay is worth reading in full.
4. SAAKASHVILI PUTS DOWN MILITARY MUTINY, MOSCOW DENIES INVOLVEMENT ... MEANWHILE PACIFIC OIL TERMINAL ON SCHEDULE FOR PRELIMINARY COMPLETION IN DECEMBER
Niko Mchedlishvili at the Washington Post reports that the Saakashvili Administration said that it put down a mutiny at a military base--the Mukhrovani tank camp--12 miles from Tblisi today.
"Georgian Defense Minister David Sikharulidze said the rebellion was aimed at disrupting month-long NATO exercises beginning on Wednesday at a former Russian air force base several kilometers from Mukhrovani."
Moscow denies the allegation. Meanwhile,
Amanda Rayborn at Platts reports that the Russian Pacific oil terminal at Kozmino in Primorsky Province is on schedule to be operational by December.
In December, the terminal should have the capability of loading supertankers with storage capacity of 1 million barrels. Eventually the terminal will be capable of serving VLCCs with 2 million barrel holds.
"The first stage of ESPO envisages crude deliveries via a 600 kb/d pipeline from Taishet in East Siberia to Skovorodino in the Amur region in Russia's Far East. From there, 300 kb/d will be transported by railroad to Kozmino. The other 300 kb/d will flow via a 60 km offshoot from Skovorodino to China.

In the second stage, the line is to be extended to the sea terminal, with
the route's capacity increased to 1.6 mb/d."
Rosneft is considering constructing a 400 kb/d refinery nearby the terminal.
5. ANALYSTS RUBBISH THE NOTION THAT RUSSIAN BOOST IN CRUDE PRODUCTION IS A TREND, ANGOLA ALLEGEDLY COMPOSES LETTER ASKING OPEC FOR THE OK FOR MORE OUTPUT, GOLDMAN SACHS SAYS ALL AVAILABLE GLOBAL OIL STORAGE TO BE FULL BY JUNE, JBC ENERGY SAYS NARROWING CONTANGO WILL GET HOTELLERS TO SELL AND ENBRIDGE SET TO SELL OLD STORAGE BY CUSHING, BUT BARCLAYS SAYS IMMINENT RISE IN PRICE WILL FORCE SHORT COVERING DRIVING PRICE TO AS HIGH AS $70/B, WHILE SAUDI ARAMCO OFFERS US LOWER PRICES FOR CRUDE IN JUNE AND EUROPE HIGHER PRICES IN JUNE AS EUROPEAN ANTI-DUMPING MEASURES KILLS US BIODIESEL INDUSTRY
Spencer Swartz at Environmental Capital reports
that most analysts think the recent boost in oil production in Russia--see
Daily Sources 5/4 #6
--is a blip and that the country will soon return to the trend of declining output.
"Like many oil forecasters outside Russia, consultants at PFC Energy in Washington think the country's crude production could drop by at least 300,000 barrels a day in 2009 after sinking by almost 100,000 barrels a day last year, based on PFC calculations."
Meanwhile,
Tamsin Carlisle at The National reports that Angola, which currently holds the presidency of OPEC, may have sent a letter to the secretary general of the organization asking for the go ahead to pump more crude going forward.
"According to the May 4 issue of the weekly Middle East Economic Survey (MEES), the letter argued that Angola had a special need for oil revenues to rebuild an economy damaged by 30 years of civil war. It also said the country would be severely penalized if forced to adhere to its 1.517 mb/d OPEC production target, as several high-cost offshore oil developments are due to come on stream."
Angola pumped 1.71 mb/d of crude in April, 30 kb/d more than March, per a recent Reuters survey. The letter seems somewhat of a formality, given the survey by Bloomberg in the middle of April which showed that loadings already scheduled for June are at 1.85 mb/d--see
Daily Sources 4/17 #9
. In that vein,
Goldman Sachs estimated last week that global spare storage capacity for crude will be completely full by June, per Richard Spencer at the UK Telegraph.
The story also quotes Ahmad Abdallah, a commodities analyst at Gavekal, an economics consultancy:
"From a commodities point of view, world trade is appalling and the demand is just not there. All inventories are rising--they are bursting at their seams."
Goldman Sachs sees prices at around $45/b for the near and medium term. Meanwhile,
Alexander Kwiatkowski at Bloomberg reports that JBC Energy predicted today that traders holding more than 100 million barrels of oil in supertanker storage offshore are likely to begin selling it.
"'Oil should soon start to return to the market as contango structures appear to be narrowing, especially in the US,' Vienna-based JBC said in an e-mailed research note today. JBC estimates that as of end-April, 40 million barrels were being stored in the US Gulf Coast while as many as 24 million barrels were anchored off the U.K. and West Africa."
I haven't noticed a considerable narrowing as of late, but OK. And, if you weren't confused enough,
Joshua Schneyer at Reuters reports that Enbridge is planning to shut 500,000 barrels worth of storage capacity at Cushing, Oklahoma, precisely one of the best places to take advantage of the contango.
Apparently some of the tanks date back to the 1920s, and 500,000 only represents 3% of the company's storage facilities in the mid-continent, which stands at 16.7 million barrels. And just so all views are heard,
Christian Schmollinger at Bloomberg reports that Barclays Capital commodities analysts, led by Jordan Kotick, said that crude may jump to $71.55/b if the June contract breaks through $56.10/b, forcing a large number of traders to exit a large number of short positions.
I thought Paul Horsnell was the head of their oil analysis group, perhaps he's moved on. In any case, his bullishness lingers on. Meanwhile,
Ayesha Daya and Alexander Kwiatkowski at Bloomberg report that Saudi Aramco has cut the price of its crudes to the US buyers, while raising the price to northwest European takers.
"Saudi Arabia lowered the price of its Extra Light crude the most, cutting it by $1.15 a barrel to $1.95 below the cost of West Texas Intermediate crude, the state oil company said in a faxed statement today. The price of Light crude dropped 70 cents to $2.95 a barrel below WTI, while the Medium crude price fell 25 cents to a $4.10 a barrel discount. Heavy crude exports were left unchanged at a discount of $4.85."
Bloomberg produces a table of the price changes:
The direction of US oil futures prices are often led by European prices, both Brent and gasoil. Meanwhile,
Beth Evans and Robert Sharp at Platts report that US biodiesel producers have cut capacity utilization to 15%!
In March the EU slapped duties on US biodiesel in order to curb imports and nurture their own domestic producers.
"The EU duties, which were announced in mid-March, took a particularly
heavy toll on US biodiesel producers, said Zedlitz, [spokesman for GreenHunter Energy, the largest biodiesel maker on the Gulf Coast.] 'We believe about 85% of
biodiesel produced in the US went to Europe,' he said. That included GreenHunter production, none of which is now headed overseas, said Zedlitz."
The anti-dumping duties were unevenly applied, with some major agribusiness firms facing relatively small tariffs and other businesses facing truly insurmountable ones, from $4/b for Archer Daniel Midlands to more than $40/b for others--see
Daily Sources 3/12 #10
.
6. IRAQI PRIME MINISTER BACKS TOTAL BID FOR IRAQI OIL CONCESSION, TOTAL APPEARS TO HAVE THE MOST APPETITE FOR POLITICAL RISK OF ALL THE IOCS
Helene Fouquet at Bloomberg reports that in an interview on France 2 to be aired today Iraqi Prime Minister Nuri al-Maliki indicated that he supports Total SA's bid for an oil exploration and production contract in his country, expressing the hope that the company would sign the contract during French Prime Minister Francois Fillon's visit to Iraq in June.
"Al-Maliki did not specify which oil field would be attributed to Total. He met today in Paris with Total Chief Executive Officer Christophe de Margerie.

'The meeting came in the course of ongoing discussions to reinforce our cooperation with the Iraqi authorities,' Total spokeswoman Phenelope Semavoine said over the telephone."
Two thoughts:
One: Traditionally it is held that feeling free to leave one's country to conduct business is an indication that a head of state feels comparatively sure that he will not be ousted by any political association in the meantime. Al-Sadr is also out of the country in Turkey, but still, it is a sign of strength.
Two: Total SA these days appears to have taken the mantle of the international oil company with the largest appetite for political risk. Ironically, in my view anyway, the company appears to have divorced itself from France's colonial past in the eyes of the developing world. That security for its operations might be provided by the UK--see
Daily Sources 5/1 #3
--really puts the cherry on it.
7. PRESIDENTS OF PAKISTAN AND AFGHANISTAN TO MEET OBAMA TOMORROW IN DC WHILE PEOPLE IN THE SWAT VALLEY PREPARE FOR REAL WAR TO BEGIN; LUGAR AND KERRY DRAFT BILL TO GIVE SUBSTANTIAL NON-MILITARY AID TO ISLAMABAD
Reuters reports that Pakistani President Asif Ali Zardari and Afghan President Hamid Karzai are scheduled to meet in Washington, DC, for tripartite talks with President Obama tomorrow while hundreds of people fled the Swat Valley in order to avoid the anticipated violence.
"[S]ecurity forces launched an offensive to expel militants from Buner and another district on April 26. About 180 militants have been killed, according to the military, although there has been no independent confirmation.

The operation in Buner was going smoothly and troops were consolidating their positions, the military said."
Pamela Constable at the Washington Post reports:
"'The government is trying its best to give time and space to the other side to allow the reconciliation process to reach its logical conclusion,' Maj. Gen. Athar Abbas, the military's spokesman, told a Pakistani news channel. He said that the army's orders were limited to clearing the Taliban from Buner and that if reconciliation fails, 'it will be the decision of the government whether to extend operations to Swat.'

Abbas referred to the Taliban in noticeably respectful terms, even as he complained that it had killed prisoners whose hands had been tied. His language contrasted sharply with the mocking defiance of recent Taliban pronouncements. In the past two days, Taliban spokesmen have asserted that democracy is 'infidel' and that the fighters will never lay down their weapons.

In Swat, meanwhile, Taliban forces were described Monday as preparing for sustained resistance against any attack, taking positions on rooftops in the district capital, hiding in a labyrinth of tunnels in local emerald mines and occupying homes and offices from which thousands of people have fled."
Meanwhile,
Farah Stockman at the Boston Globe reports that Senators John F. Kerry (D-MA) and Richard Lugar (R-IN) introduced a bill yesterday which would triple non-military aid to Pakistan to $1.5 billion a year for the next five years.
"The bill authorizes, but does not appropriate, the money, so Obama will still have to go through the formal process of requesting the funds. Once the money comes, the challenge will be to spend it effectively, said Daniel Markey, a former State Department policy planner.

A separate program launched by the Bush administration to spend $750 million over five years on development aid in Pakistan's lawless tribal areas has faced 'enormous difficulties' because of poor security and a lack of local institutions to partner with, Markey said."
The text of the proposed legislation can be found
here
. It includes the Senators' assessment of the mutual interests of the two countries:
"The people of Pakistan and the United States share many compatible goals, including—
(A) combating terrorism and violent radicalism, both inside Pakistan and elsewhere;
(B) solidifying democracy and the rule of law in Pakistan;
(C) promoting the economic development of Pakistan, both through the building of infrastructure and the facilitation of increased trade;
(D) promoting the social and material well-being of Pakistani citizens, particularly through development of such basic services as public education, access to potable water, and medical treatment; and
(E) safeguarding the peace and security of South Asia, including by facilitating peaceful relations between Pakistan and its neighbors."
Evidently parallel legislation in the House is so packed with conditions that Islamabad could never accept its terms.
The National Journal has published the responses of nine international relations experts on the situation in Pakistan
--
-Daniel Serwer, Vice President, Center for Post-Conflict Peace and Stability Operations, United States Institute of Peace;
-James Kitfield, NationalJournal.com;
-Joseph J. Collins, Professor, National War College;
-Michael Vlahos, Fellow and Principal, Johns Hopkins University Applied Physics Laboratory;
-Col. W. Patrick Lang, (U.S. Army, ret.);
-Ron Marks, Senior Vice President for Government Relations, Oxford-Analytica;
-Michael F. Scheuer, Adjunct Professor of Security Studies, Georgetown University;
-Bruce Hoffman, Professor, School of Foreign Service, Georgetown University; and
-Paul R. Pillar, Visiting Professor, Georgetown University.
I have not had the time to go through the analyses yet,
but they were recommended by Michael Collins Dunn at the Middle East Institute
, who recommended especially that readers check out Pillar's thoughts.
8. GATES REASSURES ME ALLIES THAT DETENTE WITH IRAN DOESN'T MEAN THE US WILL ABANDON THEM; BOTH IRANIAN PRESIDENTIAL CANDIDATES RIP OFF YES WE CAN SLOGAN FROM OBAMA
Greg Jaffe at the Washington Post reports that Defense Secretary Robert Gates is working to reassure US allies in the Middle East that the effort to reach a detente with Iran will not derail their relationship with DC.
"In Egypt, Gates played down the likelihood of a major breakthrough, or 'grand bargain,' that would lead to dramatic changes in the US-Iranian relationship, such as the re-establishment of diplomatic relations.

'I believe that kind of prospect is very remote,' he told reporters in Cairo Tuesday after meeting with President Hosni Mubarak. 'We'll just have to see how the Iranians respond to the offer from the president. Frankly, some of the first things that have happened as a result of the extension of that open hand have not been encouraging.'"
Indeed, but on the other hand it appears as if both Iranian presidential candidates have decided to see if they can adopt Obama's campaign slogan of Yes, We Can! for their very own. That's right,
Ben Schott at Schott's Vocab reports that Mahmoud Ahmadinejad's re-election slogan is

Ma Mitavanim

, or "We Can" in Farsi
.
"Meanwhile, Radio Free Europe reported that Ahmadinejad's challenger, Mehdi Karrubi, had adopted as his campaign slogan the (equally Obamaesque) word 'change':

Karrubi said that he took the slogan from a verse in the Koran which says that the fate of a nation does not change unless the people decide to change it."
And so it is that the wheel of meaning turns.