1.
Reuters reports that the Markit Eurozone Composite PMI employment index for the eurozone showed that corporations continue to fire workers in response to the crisis, falling to 40.3, down from February's 40.8.
Edward Hugh at Fistful of Euros reports that unemployment in Spain rose by 123,543 in March, a slower rate of increase than what was seen in February and March.
But if you look at the annual rate, unemployment in March grew by 56.69%. His chart:
Worth reading.
2.
Jane Baird and Douwe Miedema at Reuters note that after yesterday's European Central Bank decision, Governor Jean Claude Trichet indicated that the bank was preparing to consider "non-standard measures," by which he is understood to mean "quantitative easing."
3. In a very helpful analysis,
Simon Johnson at Economix argues that the Obama Administration managed to pull of a coup by getting the European members of the G20 to agree to make the selection process for the head of the IMF open transparent and competitive.
"The managing director of the IMF is very powerful, with a great deal of authority and discretion, and has always been a European--in effect, appointed by European governments to represent their interests. The G-20 made it clear that this will stop--the communiqué says the selection process will be open, transparent and competitive. But really this is code for saying they will pick someone from an emerging-market country, such as India or Brazil (and there are some excellent candidates). The right person in this job could have a huge positive effect on the IMF's legitimacy.

To make things matters more interesting, the IMF's managing director is expected by insiders to resign within a year, to resume his (promising) pursuit of the French presidency. The leadership race for the next managing director effectively starts today; the stakes are high, and competition will be intense.

How did the Obama administration pull this off? In a brilliant move, they took the lead by volunteering to open up the selection process for the World Bank, the IMF's sister organization, which has always been run by an American. The next president of the World Bank is very likely to be Chinese."
C. Randall Henning at the Peterson Institute for International Economics drew attention to the worries that the nations of the Asia Pacific were going to basically abandon the IMF via the Chiang Mai Initiative [CMI] in a paper published on February 27:
"Steve Weisman: Do you see any danger of them going separately from the IMF and having their own deals to bail out countries in times of crises?
C. Randall Henning: That of course is what a number of people are worried about. I'm not worried about that at this point. First of all, there are differences of view within Asia about how to construct and administer these arrangements, and I don't
think that they are willing to break with the IMF right now. They're aware that they have to make more progress in the development of their regional surveillance mechanism. Before East Asia is going to be in a position to define any conditionality that would flow through a multilateralized CMI, until they develop a regional capacity for analysis and surveillance, they're going to continue to rely on the IMF to help define the conditions that should be attached to the financing. So the way it's structured now in the bilateral swap arrangements under the CMI is that most of that money would not flow to a borrower in Southeast Asia unless that borrower also negotiated an IMF program. So it's designed as a parallel line of defense. But that will continue under a multilateralized CMI, although they may change the ratio between the linked portion and the unlinked portion in these arrangements."
(h/t
RGE Monitor
)
4.
Czech Prime Minister Mirek Topolánek has a piece in today's Wall Street Journal which argues that NATO is indispensable.
"When thinking about the further development of NATO, I try to imagine a world without it. I imagine countries threatened with terrorism (and which country would dare say that it is not?) left alone to defend themselves. I imagine invaded countries scrambling to find allies too late. I imagine Afghanistan or another unstable country becoming the center of militant organizations and drug cartels. I imagine countries in strategic locations becoming toys in the hands of powerful neighbors.

As President Barack Obama rightly said in his recent speech unveiling a new strategy on Afghanistan and Pakistan, 'the very idea that free nations can come together on behalf of our common security . . . was the founding cause of NATO six decades ago, and that must be our common purpose today.' If such a world without NATO indeed existed, I would be the first to call, on the basis of historical experience encompassing the Munich Treaty and the end of democratic Czechoslovakia, for the creation of an alliance that would protect freedom, equality and respect for human dignity and life."
One suspects that Topolánek, whose coalition was recently ousted by a no confidence vote, is trying to undo some of the damage done by framing US fiscal policy as "the way to hell"--see
Daily Sources 3/25 #4
. Meanwhile,
Edward Cody at the Washington Post reports that the Europeans are unlikely to commit more troops to Afghanistan in support of the new US plan for addressing the situation there.
"European officials said Obama is likely to come away from the summit Saturday with a broad endorsement of his idea that stabilizing Afghanistan is a strategic goal for NATO and support for his decision to devote more civilian as well as military resources to eliminating al-Qaeda havens there and in Pakistan. But they also said that summit pleasantries are unlikely to mask Europe's refusal to commit to major new troop deployments.

Europe's main new contribution for now, French officials said, will be a 300-member corps of paramilitary gendarmes to mentor Afghan policemen in the provinces. France, Italy, Spain and Portugal have expressed interest in participating, the officials said, but the project is still under discussion and, in any case, the force would be deployed only in areas considered pacified enough for NATO soldiers to turn the area over to Afghan authorities."
That said, t
he Washington Post has published the transcript of a joint press conference of Chancellor Angela Merkel and President Obama
in which she said,
"Well, what is indeed gratifying to note is that the new approach of the new administration of the United States as regards Afghanistan is very much in step with what Germany is envisaging, the sort of networked security, as we call it, or an integrated security, where you have a civilian component of rebuilding, training, and last, but not least, obviously, also, the capacity of the Afghans to really defend themselves.

That is actually what we were after with our mission to Afghanistan."
The transcript is worth reading in full. It seems to me that Obama's commitment to transition the US effort out of Iraq into Afghanistan will remind many in Europe of the original reasons for their support for the US effort in Afghanistan--and may well produce more cooperation in that effort than we have seen so far. I find this line of thinking convincing in part because of the US's decision to include Iran in the recent negotiations. In the meantime, a Spanish magistrate, Baltasar Garzon, has asked a Spanish prosecutor to file charges against Douglas Feith. I believe this is the same magistrate who pursued a case against Pinochet.
Feith has written an op ed in the Wall Street Journal, serving as his own defense attorney.
5.
Xinhua reports that Russian Prime Minister Vladimir Putin indicated that Moscow supported continuing talks with Ukraine regarding natural gas transit.
"At the corporate level, of course, the dialogue must continue in all areas. Ukraine is our important partner from the standpoint of gas transit."
Meanwhile,
CJ Chivers at the New York Times reports that Russia has maintained troops in the breakaway regions of Abkhazia and South Ossetia in violation of the cease fire agreement which called for both sides to withdraw their troops to the positions held before the war broke out.
"Gilles Janvier, deputy head of the European monitoring mission, said in an interview that Russia had told diplomats that it had entered its own military agreement with the two breakaway regions in Georgia, which the Kremlin recognizes as independent states, and that these newer arrangements rendered the troop withdrawal component of the cease-fire plan obsolete."
6.
John Roberts at Platts reports that the Georgian government signed a memorandum of understanding with the GUEU-White Stream Pipeline Company to support a natural gas pipeline which would pass through Georgia, the Black Sea, to Romania and onwards towards the rest of Europe.
Romania has yet to sign an MOU in support of the project. White Stream corporate development director Giorgi Vashakmadze told Platts that "It will take us five years to start laying the first pipeline after we have completed all the necessary agreements," and that the planned pipeline is meant to be complementary with the Nabucco pipeline. Alternatively, the pipeline might pass through the Ukraine, though recent events would seem to make that an unlikely choice. The two proposed paths of the pipeline are indicated in the map below.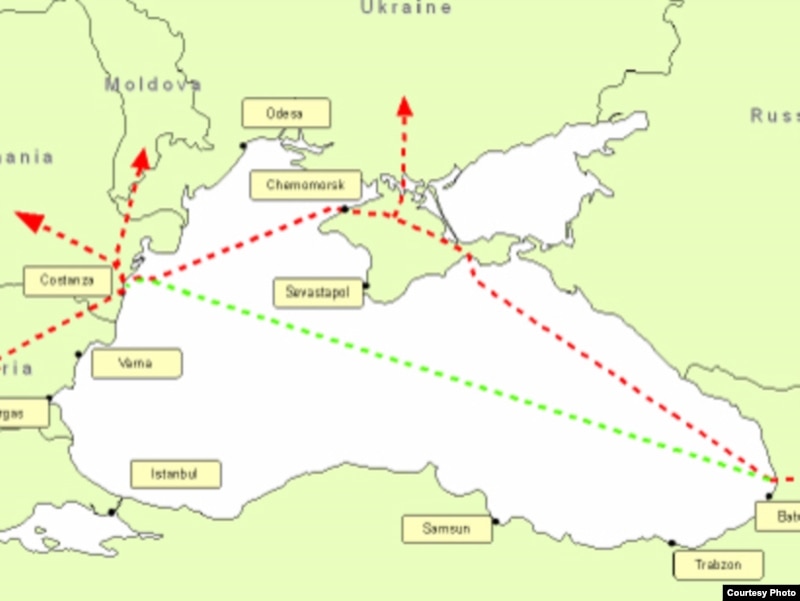 7.
UPI reports that IRNA reported that Iranian Oil Minister Gholamhossein Nozari in talks with his Syrian counterpart, Sufian Allaw, in Damascus argued that natural gas export deals to Syria should be concluded as quickly as possible.
"'Iran will transfer gas to Greece and Italy through Iraq, Syria and the Mediterranean Sea,' Nozari said."
The Turkish Weekly reported on Iran's case for an alternative to the Nabucco Pipeline today:
"Safe transit routes will be determined based on political and strategic realities. The Nabucco pipeline will pass through Turkey and the Balkans. The Persian Pipeline might pass through Iraq, Syria and the Mediterranean to Europe. These alternative routes will be discussed by the buyers, suppliers and transit countries."
Up until now, the Persian Pipeline, aka Pars Pipeline, has been envisioned as passing through Bazargan, a city on the Turkish border--completely bypassing Syria and Iraq. Bazargan is about where I indicate on the map below.
The "haste" so "urged" sounds to me like Iran is beginning to get worried about the fact of potential Russian cooperation with US efforts to put the kibosh on the nuclear power program.
8.
Shamal Aqrawi and Ahmed Rasheed at Reuters report that South Korea's SK Energy has yet to withdraw from contracts with the Kurdish Regional Government, which Baghdad insists it must cancel in order to be approved as a bidder for the central government's oil concessions.
9.
Zhou Xin at Reuters reports that the official Chinese PMI for March indicates expansion, moving from 49.0 in February to 52.4 in March.
"'The continuous increase in PMI, along with positive signs I can witness from different places, showed that the Chinese economy may have started to warm up,' Ma Jiantang, the head of China's National Bureau of Statistics, told the China Information Daily, the statistics bureau's mouthpiece."
The official index stands in contrast to the private CLSA China PMI, which fell to 44.8 in March, down from 45.1 in February--see
Daily Sources 4/1 #6
. (Readings above 50 imply expansion; below 50 implies contraction.)
10.
Robert Campbell at Reuters reports that in a report delivered to the US Congress on Wednesday states that the Mexican finance ministry expects crude oil production to fall below 2.5 mb/d in 2011.
"The finance ministry estimated oil exports would drop to 1.125 mb/d in 2010 from 1.370 mb/d forecast for this year."
11.
Jens Erik Gould at Bloomberg reports that Manuel Marrero Faz, senior oil adviser at Cuba's Ministry of Basic Industries, said that the country would welcome US participation in its offshore oil fields were the embargo ended.
"We are open. ... We're very close to each other. We're neighbors. Why not do business?"
"The US Geological Survey estimates Cuba's North Basin region, one of three offshore areas believed to hold oil, has 4.6 billion barrels." To put that in context, 4.6 billion barrels is about 55 days of global oil consumption (at a rate of 84 mb/d).
12.
Barry Ritholtz at the Big Picture reports that the non-farm payroll employment number out today from the Bureau of Labor Statistics fell by 663,000 in March, bringing the headline unemployment number to 8.5%, from 8.1% in February.
Calculated Risk plots the trajectory of the decline in employment against the post war recessions in a useful graph:
The U-6 number, or total unemployed plus the total of "marginally attached" workers plus total employed part-time for economic reasons has reached 15.6% in March from 14.8% in February.
13.
Rebecca Wilder at News N Economics has a post showing that although the number of bank failures due to this financial crisis have been high, at 46, the number is not especially large historically-speaking, "the Fed and the Treasury likely enabled the economy to skirt a depression-sized disaster."
She argues that the financial situation will require consolidation, sooner or later. Well worth a look.
14. James Hamilton at UCSD has authored a very important report for the Brookings Institution which shows--to his own disbelief, evidently--that the oil shock of 2008 was a primary cause of the current financial crisis.
As Justin Lahart's post on the piece in Real Time Economics summarizes
:
"[Maybe] what happened to oil prices had something to do with credit markets seizing up. The housing bubble saw people of lesser means traveling further afield to buy homes. That gave them long commutes that they were able to afford when gas was $2 a gallon, but maybe they couldn't at $3. Housing in the exurbs got hit hardest, and one reason why is that high gasoline prices made it hard for people to lived in them to keep up with their mortgage payments, and hard for them to sell their homes without taking a steep loss. In some meaningful way, that has to have contributed to mortgage problems."
Hamilton's own summary is
here
. The report--quite long at 70 pages, is
here
.
15.
Charles Abbott and Russ Blinch at Reuters reported yesterday that 32.2 million Americans received food stamps in January, or 1 in 10, 10%.
"The average benefit was $112.82 per person in January. ... Food stamp benefits get a temporary 13% increase, beginning with this month, under the economic stimulus law signed by President Barack Obama. The increase equals $80 a month for a household of four."
Seriously worrisome stuff. I personally feel--strongly--that more should be offered ... especially given that food stamps produce the largest "multiplier" of all stimulus measures, as they must be spent in a set time--
see Menzie Chinn's post on October 27, 2008.
Food security is the most critical measure of stability, always. As Bob Marley put it, "A hungry man is an angry man."