1. EVERYONE SAYS THAT CHINA AND THE US NEED TO WORK TOGETHER TO RESOLVE THE FINANCIAL CRISIS AND OTHER GLOBAL ISSUES, ESPECIALLY GIVEN BEIJING'S HUGE HOLDINGS OF US$ ASSETS, WHICH HAPPENS TO MIRROR FRANCE'S SITUATION IN THE GREAT DEPRESSION ... MEANWHILE CHINESE ECONOMIC DATA MIXED AND BEIJING WARNS TOKYO ON YASUKUNI SHRINE AND US ON DALAI LAMA
Brad Setser at Follow the Money reports that the IMF Global Financial Stability Report implies that going forward the only country with a significant trade surplus globally will be China.
"If oil averages $50 or so this year and $60 or so next year--and if intra-European surpluses and deficits are netted out--the world's macroeconomic imbalances reduce to the United States external deficit (which the IMF estimates will be under 3% of US GDP in 09), a somewhat smaller EU deficit and China's 10% of GDP surplus.

On the surplus side of the global ledger, the IMF forecasts that there will soon be China--and almost no one else."
Setser comments:
"[The IMF seems to expect] China's surplus [will] continue to fuel Chinese reserve growth and thus the buildup of Chinese government claims on the US and Europe. And, implicitly, China's government would risk ever larger losses on its ever growing foreign portfolio--at least so long as China finances the world by buying dollars and euros, not making yuan-denominated loans."
Sky Canaves at China Journal reports that the latest reading of the Nielsen Global Consumer Confidence Index has 65% of Chinese respondents stating that there is no recession in the Middle Kingdom.
However, Ms. Canaves notes:
"Perhaps it is a face-saving gesture, as Chinese consumers appeared more ready to admit declining confidence on a personal, rather than national, level. China's consumer confidence index also fell by seven points over the last six months, though from 96 to 89, putting it well above the global average. (The survey has a baseline of 100, and by way of comparison, US consumers were slightly more confident than average, at 80)."
Perhaps some respondents were afraid of angering the authorities as well. On the other hand,
in her weekly roundup of global economic data, Rebecca Wilder at News N Economics
notes that Chinese retail sales are up 14.7% year on year in March. Her graph:
Returning to the first hand,
China Stakes reports that the China Electricity Regulatory Commission expects a 4% decline in power generation in April (from March, or so I infer).
"According to statistics from the State Grid, power generation dropped 0.7% year on year in March, after a rise of 5.9% in February and a fall of 12.3% in January. Experts believe the fallback indicates economic uncertainties. State Grid figures also show that power generation in the first quarter of this year dropped 2.25%, year on year."
And
Olivier Accominotti has the especially interesting post at VOX which points out that China's huge volume of dollar reserves is paralleled by the situation facing France as it entered the Great Depression:
"Economic history offers one striking example of a country being trapped by the huge volume of its foreign reserves. This country was France, the period was the early 1930s, and the currency at stake the pound sterling. The episode ended up dramatically. Sterling suffered a major currency crisis, French authorities lost a lot of money, and their subsequent policy largely contributed to the Great Depression.

The origin of the problem lay in the government's decision of 1926 to peg the franc to the sterling and dollar, two years before re-establishing the gold standard. Since the trade balance was in surplus and capital was flowing into the country, this goal was achieved through public purchases of foreign exchange. The Bank of France therefore accumulated a bulging portfolio of foreign holdings. At the end of the 1920s, the country held more than half of the world's volume of foreign reserves."
At the time, the Bank of France room for action was limited by the size of its position, it could not sell large amounts of Sterling without causing a collapse in its value and thus its key holding. The bank was eventually forced to reverse its sales and support the Pound.
"When the pound eventually collapsed, the Bank of France was put into a state of technical bankruptcy. It was only able to survive thanks to a state's rescue, obtained under tough conditions. Moreover, there were now rising fears over the dollar. The will to avoid further losses therefore led authorities to convert all their dollar assets into gold, a policy that heavily contributed to the global monetary contraction of the 1930s."
Well worth reading in full. And
Former Secretary of Defense, William Cohen, has an opinion piece in the Wall Street Journal arguing that "Virtually no global challenge can be met without China-US cooperation."
Key excerpt:
"The most immediate opportunity for cooperation is in confronting the international financial crisis. China currently holds $2 trillion worth of largely US dollar-denominated foreign exchange reserves, and it is by far the world's largest holder of US government debt. As the Obama administration increases that debt to finance its economic stimulus plan, China will almost certainly be called upon to purchase the lion's share of new US debt instruments. China also has an interest in working with the US to ensure those efforts succeed, because it depends on economic growth in the US (still its largest single trading partner) to ensure stability at home.

There is a compelling need to create a new dialogue on finance and economics. This conversation began with President Barack Obama and Chinese President Hu Jintao's discussions at the G-20 summit this month in London. Meetings between US and Chinese leaders have been dubbed the 'G-2' by some to reflect the crucial role of economic negotiations between our two countries. This first meeting between the two men, and the agreement reached by world leaders at the close of the summit, mark a positive beginning to the effort to harmonize our financial management and banking regulatory practices, and explore ways to expand bilateral trade opportunities in areas such as energy and environmental technologies."
Cohen also makes special mention of greenhouse gas emissions, the nuclear dilemma in North Korea, and efforts to put an end to the opium trade originating in Afghanistan. Well worth reading in full. In the meantime,
the Associated Press's Gillian Wong reports that the Chinese Foreign Ministry Spokesperson stated that it would take umbrage were President Obama to meet with the Dalai Lama when he visits the US in October.
"We firmly oppose the Dalai's engagement in separatist activities in any country under whatever capacity and under whatever name. We have made representations to the United States urging the U.S. to honor its commitments and not allow the Dalai to engage in separatist activities in the United States."
In addition,
AFP reports that the Foreign Ministry Spokesperson "expressed concern" over Japanese Prime Minister Taro Aso's Tuesday visit to the Yasukuni shrine:
"The Chinese side has already expressed to the Japanese side through diplomatic channels our serious concern and dissatisfaction. [We] reiterated that the question of history is highly sensitive, that any mistaken action by the Japanese side will bring a serious and negative influence to bilateral relations."
2. JAPANESE DEMOGRAPHY PRESENTS SPECIAL DIFFICULTIES IN RECESSION, LOOKING FOR STRATEGIC OIL SUPPLY BASED IN BRAZIL
Hiroko Tabuchi at the New York Times reports that the Japanese government is offering to pay foreign workers thousands of dollars to return home and pay for their airfare if they promise never to return.
"In 1990, Japan--facing a growing industrial labor shortage--started issuing thousands of special work visas to descendants of these emigrants. An estimated 366,000 Brazilians and Peruvians now live in Japan.

The guest workers quickly became the largest group of foreign blue-collar workers in an otherwise immigration-averse country, filling the so-called three-K jobs (kitsui, kitanai, kiken--hard, dirty and dangerous).

But the nation's manufacturing sector has slumped as demand for Japanese goods evaporated, pushing unemployment to a three-year high of 4.4%. Japan's exports plunged 45.6% in March from a year earlier, and industrial production is at its lowest level in 25 years."
The demographic challenge of producing economic growth solely via boosts in productivity as population declines remains a dilemma for Tokyo. In the meantime, Takeo Kumagai at Platts reports that Petrobras is in talks with the Japan Bank for International Cooperation about establishing a "strategic oil supply."
"'We do not have a clear structure yet. We are still discussing a framework, conceptions of transaction,' [Petrobras CFO Almir] Barbassa said. 'As JBIC has been an important finance source for Petrobras, we are leading further development, an opportunity where Japan can be supplied if they need oil.'

'This is not to sell crude oil right now,' Barbassa said. 'This is the strategic oil supply in five years for example if there is lack of oil. We can grant some volume of oil.'"
Japan sources the vast majority of its crude imports from the Middle East and has nearly no domestic production.
3. BANK ROSSI CUTS ITS BENCHMARK LENDING RATES; ARMENIA AND TURKEY ESTABLISH FRAMEWORK FOR THE NORMALIZATION OF RELATIONS, WHICH MAY CAUSE BAKU TO CHOOSE TO SEND MORE NATURAL GAS THROUGH RUSSIA, AS OPPOSED TO WESTERN BACKED CAUCASIAN ROUTES
Emma O'Brien and Alex Nicholson at Bloomberg report that Bank Rossi cut its key benchmark interest rates today, effective tomorrow.
It cut the refinancing rate by 0.5% to 12.5% and the repurchase rate charged on central bank loans by 0.5% to 11.5%. "Rates could be reduced further should inflation continue to slow, First Deputy Chairman Alexei Ulyukayev said today, according to the Interfax newswire."
And in a surprising development,
Thomas Grove at Reuters reports that Turkey and Armenia have agreed on a framework to normalize ties after Ankara cut them and closed the border in 1993 in solidarity with Azerbaijan in its dispute with Armenia over Nakorno-Karabagh.
"'The two parties have achieved tangible progress and mutual understanding in this process and they have agreed on a comprehensive framework for the normalization of their bilateral relations,' the foreign ministries of both countries said late on Wednesday, without elaborating."
Nagorno-Karabagh is an ethnic enclave of Armenians inside Azerbaijan.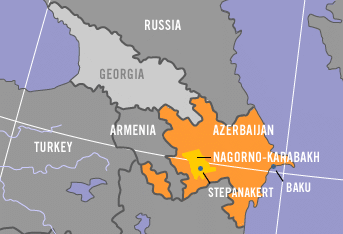 War erupted between Armenian secessionists and Baku in 1991 with the result that the Armenians wresting control of the region. A cease fire was signed in 1994 with Armenia continuing to exercise its control over the area.
"Some analysts have warned a Turkey-Armenia thaw may put at risk gas deals to boost exports to Europe.

'If Azerbaijan feels that Turkey is betraying them, then why would Azerbaijan not move in a Russian direction? And the Russians are offering to buy all their gas at European prices,' Svante Cornell, research director at the Central Asia-Caucasus Institute said.

A key supplier of oil and gas to Turkey and Europe, Azerbaijan said Armenian troops should be withdrawn from Nagorno-Karabakh during the normalization process.

'The opening of the Armenian-Turkish border cannot take place without a process to resolve the conflict over Nagorno-Karabakh,' Azeri Foreign Ministry spokesman Elkhan Polukhov said."
On April 17, following a meeting with Azeri President Ilham Aliyev, Russian President Dmitri Medvedev told reporters "We have a very high chance of entering a full-blown agreement" on natural gas supply from Azerbaijan through Russia--see
Daily Sources 4/17 #4
.
4. SWAT MILITANTS TAKE ADVANTAGE OF SHARIA DEAL TO OCCUPY ITS SOUTHERN NEIGHBOR
In a very worrisome development,
the Associated Press reports that Taliban militants who have recently struck a deal to impose Sharia on Swat Valley have entered neighboring Buner Province in large numbers.
Inside Buner they have set up checkpoints and started patrolling roads.
Government paramilitaries are being rushed to the region to protect federal government buildings and infrastructural nodes and have reportedly exchanged gunfire with the militants.
"[A] meeting between tribal elders and the Taliban on Thursday in Daggar, Buner's main town, ended without any indication that the Taliban would withdraw.
...
Two Taliban representatives declined to comment after the meeting, driving away in a pickup truck full of gun-toting associates. However, a Taliban leader who goes by the name Commander Khalil said the militants had agreed to stop patrolling in Buner, though they would still keep armed guards in their vehicles.

'We are here peacefully preaching for Sharia. We don't want to fight,' Khalil told an AP reporter by phone.

Another Taliban leader, Maulana Muhammad Bashir, said the militants had agreed not to target those who had opposed them in the past in Buner--a key demand of local leaders, some of whom had raised tribal militias to fight the Taliban."
Clearly if the Taliban cannot be convinced via compromises to pursue its political aims peacefully, then Islamabad has little option but to allow the civil war to spread.
5. THE UN DELIVERS ITS RECOMMENDATIONS RE: KIRKUK; IRAQI SECURITY FORCES CLAIM THEY HAVE CAUGHT AL-QAEDA IN IRAQ LEADER
Corinne Reilly at McClatchy Newspapers reports that the UN's recommendations on how to resolve the dispute of Kirkuk was distributed to all parties yesterday. The details of the recommendations were not made public, but reportedly included four options for handling Kirkuk. Analysts were skeptical it would produce any solutions:
"'I think everyone will reject the report's findings,' said Joost Hiltermann, the International Crisis Group's senior Iraq analyst. 'I think it presents a brilliant opportunity for compromise, but I'm not convinced either party is ready for that. Both likely think they can win more if they fight.'"
In the meantime,
Mark Lynch at the Abu Aardvark's Middle East blog reports that Iraqi security forces have claimed they have captured Abu Omar al-Baghdadi, the Emir of the Islamic State of Iraq (al-Qaeda in Iraq).
Lynch comments:
"How much does it matter, if true? Depends on how much you think 'al-Qaeda' is responsible for the recent uptick in violence and the ongoing hot conflict in the northern cities. My guess is that some portion of the recent wave of violence has to do with the disintegration of the Awakenings experiment -- either actively, through the return to the fray of some of the "former" insurgents who populated its ranks than by the remnants of AQI, or passively as they stop working as vigilantly to prevent attacks. Such Sunni groups are not part of AQI or the ISI, and indeed have been fighting against them bitterly for several years. To the extent that a significant portion of the recent violence is driven by their political struggles, then damping it back down requires a political solution with the Iraqi government. Hurting AQI by getting Baghdadi won't do a thing to address the mounting complaints of these non-AQI Sunnis over the Maliki government's foot-dragging on integration of the Awakenings into the security forces, selective repression of various Awakenings leaders, and so forth."
6. EGYPT OFFICIALLY INVITES NETANYAHU FOR A VISIT
BBC reports that Cairo has officially invited Israeli Prime Minister Benjamin Netanyahu to visit Egypt.
"During the Jerusalem talks [between Mr. Netanyahu and Egyptian intelligence chief Omar Suleiman], Mr. Netanyahu told Mr. Suleiman that 'Israel and Egypt have common interests, and the most important one is peace,' Israel's Haaretz newspaper reported."
7. THE CONTANGO IN OIL JUST WON'T GO AWAY
Jonathan Saul at Reuters reports that nearly 100 million barrels of oil is being stored in supertankers at sea per Frontline, the highest level seen since 1991
--mirroring the stocks data in the US where commercial crude in storage is at the highest levels seen since September 1990.
"One London-based analyst estimated that the current rate for 30-90 days storage using vessels was $37,500 a day, down from $55,000-$60,000 a day during the first quarter of 2009, making storing oil a cheaper option now."
For VLCCs (which hold about 2 million barrels of oil) that works out to about a $1.68/b for 90 days and $0.56/b for 30. The month 3 contract for sweet light at NYMEX closed yesterday at a $3.34/b premium to front month. The month 2 contract closed at a $1.85/b premium to front. Daily global oil consumption is running at about 84 mb/d, so 100 mb represents about a 1 1/5 days of global consumption.
8. MORE DISMAL NEWS ON THE US ECONOMY
Tom Krisher at the Associated Press reports that GM is set to idle nearly all of its factories in the US for 9 weeks this Summer to reduce inventory.
"One of the people briefed on the plan said details are still being worked out. Some of the closings could be staggered between mid-May and the end of July, but the exact number of plants to be idled has not yet been determined."
In addition,
Jeff Bater and Maya Jackson Randall at the Wall Street Journal reports that existing home sales, or "home resales," fell by an rate of 3% for annual sales ended March over annual sales ended February per data released today by the National Association of Realtors.
The median price was down 12% from a year earlier. Meanwhile:
"Initial claims for state jobless benefits grew 27,000 to 640,000 in the week ended April 18, the Labor Department said in a weekly report Thursday.

Wall Street economists had expected a 30,000 rise, according to a Dow Jones Newswires survey. The prior week's level was revised to 613,000, which is 2,000 higher than the 610,000 level initially reported."