1. JAPANESE GOVT REPORT COMPARES PARTY PLANS FOR GREENHOUSE GAS EMISSIONS REDUCTIONS ON ECONOMY
Yoko Kubota at Reuters reports that the plan by Japanese opposition party to cut greenhouse gas emissions by 25% from 1990 levels by 2020 would, per a government report, "push down real gross domestic product growth by 3.2 percentage points and the unemployment rate could grow by 1.3 percentage points."
The government plan for an 8% reduction from 1990 levels by 2020 would, per the report, "push down Japan's economic growth by 0.6 percentage points and raise unemployment by 0.2 percentage points in 2020."
2. PBOC'S MONETARY REPORT INDICATES EASY CREDIT POLICY TO CONTINUE, MINISTRY OF HUMAN RESOURCES WARNS EMPLOYMENT SITUATION GRAVE, ELECTRICITY DATA SHOWS STEEP FALLS IN CONSUMPTION, BANKS LEND LESS IN JULY CONTRA PBOC REPORT, AND BP SAYS GDP DATA MORE OR LESS TRUSTWORTHY
Andrew Batson at the Wall Street Journal reports that the People's Bank of China's quarterly monetary report reaffirmed its commitment to continuing easy credit policies.
"'China's economy is now in a critical period of stabilization and recovery, and maintaining stable and rapid economic growth is still the most important task we face ... . Although the general trend of stabilization in the [global] economy has been basically established, the process of recovery may be slow and tortuous.'

With global demand for China's exports still weak, a solid rebound depends on domestic consumption and investment, the central bank said. Chinese companies may be more willing to ramp up production now that inventories have been reduced.

Sentiment among private-sector businesses remains weak, it said, and consumers' worries about future income could crimp spending. 'The foundation of the economic recovery is not yet stable,' it said, echoing other agencies' recent comments."
In a somewhat different take on the question of whether migrant unemployed in China are a reason to worry from the story cited yesterday--see
Daily Sources 8/5 #1
--
Yves Smith links to an AFP report
that
"China Tuesday warned of a 'grave' situation in the jobs market with millions of graduates and migrant workers yet to find work as companies continue to struggle with the effects of the global slump...

'China's current employment situation is still grave and the pressure for job creation remains large,' said Wang Yadong, a senior official at the Ministry of Human Resources and Social Security's employment section."
She also notes that:
"First-half electricity use by small and medium-sized enterprises fell almost 50% year-on-year, as these companies were more exposed to the economic downturn, the National Bureau of Statistics said on August 3.

SMEs saw power consumption plunge 48.9% year-on-year, against a 5.9% industry-wide drop."
And in contrast to the affirmation of the People's Bank of China in its quarterly report mentioned above:
"China's big state-owned commercial banks extended around 168 billion yuan worth of new loans in July, down sharply from the 497 billion issued in June, banking sources told Caijing on August 4."
And she picks up on the story in the FT yesterday that if you add up the output numbers of the various provinces, they are 10% more than overall national output as reported by Beijing. And to muddy the waters further, Sheetal Nasta at Platts reports that the chief Asia economist of BP, Chi Zhang, said at an event at the British Chamber of Commerce in Shanghai Wednesday that
"'in general, [the] data reflects economic growth reality,' given that China is 'very manufacturing intensive and there has been a lot of industrialization and an urbanization process is going on.'

While he admitted the Chinese have been likely 'taking advantage of low energy prices,' he retreated from the notion that government stockpiling was inflating prices.

Speaking of the oil price spike in 2008, he said data from BP's annual statistical review, issued earlier this year, shows that the 'big spike' in (price) coincided with related economic activity, primarily supply-side constraints due to investment shortfalls, geopolitical issues and few technological breakthroughs."
The continuing incredulity regarding official output growth numbers in China was driven by the disparity between the electricity consumption numbers, which are no longer published--see
Daily Sources 6/8 #6
--later reinforced by skepticism expressed in the May report by the International Energy Agency which suggested that oil demand would have been stronger than reported if it were to reconcile with the GDP numbers and suggested the possibility that "Real GDP data aren't accurate and shouldn't be taken at face value"--see
Daily Sources 5/14 #2
.
3. GERMAN FINANCE MINISTER SAYS FINANCIAL SECTOR RETURNING TO 'CASINO CAPITALISM', ECB MAINTAINS BENCHMARK RATE AND INDICATES THERE WILL BE NO ADDT'L STIMULUS
Der Spiegel reports that Finance Minister Peer Steinbrück is in the media warning against the return of 'casino capitalism.'
Among other comments, he said:
"In the United States and Britain, lobbyists are already questioning some regulatory measures."
and, in Germany,
"Taxpayers are continuing to completely finance big bonuses [at banking firms]."
Meanwhile,
Christian Vits and Simone Meier at Bloomberg report that European Central Bank president Jean-Claude Trichet indicated that the bank is unlikely to provide further stimulus after its monetary committee left the benchmark interest rate at 1%.
"Rates are 'appropriate' and policy makers are 'satisfied' with their asset-purchase program and measures to improve the flow of credit, he said."
"The ECB currently predicts the euro-region economy will contract about 4.6% this year and 0.3% in 2010. Inflation will average about 0.3% this year and 1% in 2010. The bank aims to keep inflation just below 2%."
4. BANK OF ENGLAND TO EXPAND QUANTITATIVE EASING, LONDON TO REPLACE SHORT HAUL AVIATION WITH HIGH SPEED RAIL
Niel Shah at the Wall Street Journal reports that the Bank of England today announced it would expand its quantitative easing program, increasing purchases by £50 billion (~ $85 billion) to a total of £175 billion.
"The increase required the bank to get special permission from the UK Treasury, which had previously capped the program at £150 billion.

The expansion of the program suggests policy makers are still worried about the long term outlook for the UK economy despite a recent spate of positive data pointing to recoveries in house prices, manufacturing and services."
"While banks' reserves of cash have more than tripled since the central bank launched the program back in March, one broad measure of lending in the economy--M4 money supply excluding certain financial intermediaries--has hardly budged. In the second quarter, the measure was up just 3.1% from the same period a year earlier, the weakest expansion since 1999.

Beyond that, rising unemployment and peoples' efforts to pare down heavy debt loads are likely to weigh on consumer spending, by far the largest driver of demand in the UK economy. As of May, the UK unemployment rate stood at 7.6%, the highest level in 12 years."
Meanwhile,
Dan Milmo and Julian Glover at the Guardian report that Downing Street has announced plans which would replace domestic air travel with a high speed--250 mph--rail.
"The transport secretary, Lord Adonis, said switching 46 million domestic air passengers a year to a multibillion-pound north-south rail line was 'manifestly in the public interest'. Marking a government shift against aviation, Adonis added that rail journeys should be preferred to plane trips.

'For reasons of carbon reduction and wider environmental benefits, it is manifestly in the public interest that we systematically replace short-haul aviation with high-speed rail. But we would have to have, of course, the high-speed network before we can do it,' he said."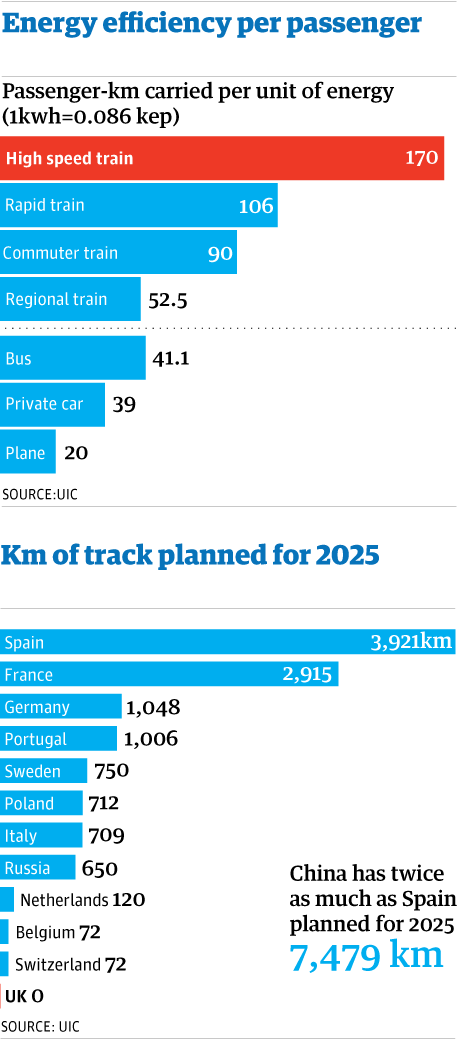 5. GEORGIAN AND RUSSIAN OFFICIALS TRY TO CALM WORRIES ABOUT NEW FIGHTING BREAKING OUT, SAAKASHVILI LAYS BLAME FOR 2008 CONFLICT ON MOSCOW IN OP ED
Jim Heintz at the Associated Press reports that senior officials in Tblisi and Moscow are walking back from rhetoric suggesting the possibility of renewed fighting.
"The deputy chief of Russia's general staff says Georgia is too weak after the war that devastated its military and caused an estimated $1 billion damage to the struggling country.

Georgia's national security adviser, however, says the danger of new fighting appears low because of 'preventive diplomacy' and because Russia knows a new war would undermine its influence among neighbors and rapprochement with the West."
In the meantime,
Georgian President Mikheil Saakashvili has an op ed in today's Washington Post which lays the blame on last year's conflict squarely on Russia.
Key excerpt:
"Russian provocations have not stopped; snipers in Russian-controlled areas have killed 28 Georgian policemen. In recent days, Moscow has engaged in a series of provocative acts and statements, echoing its prelude to last year's invasion. Even as the world watches, Moscow has vetoed monitoring missions from the United Nations and the Organization for Security and Cooperation in Europe. In violation of the cease-fire, Russia also denies European Union monitors access to the occupied territories.

Despite all this, and contrary to some expectations, Georgia has rebounded. Our democratic institutions are growing. Foreign investors are returning. The world should recognize that the kind of behavior Russia exhibited last August threatens not only Georgia but our entire region."
6. TURKISH PM MEETS WITH HEAD OF LARGEST TURKISH KURD PARTY, ANKARA SIGNS ON TO SOUTH STREAM
Nicholas Birch at the Wall Street Journal reports that Prime Minister Recep Tayyip Erdogan of Turkey met with the leader of the main Kurdish party in the country Wednesday, in what is the first meeting of the head of government with the party in the country's history.
"[M]any analysts say the new Kurdish opening is qualitatively different from anything that came before.

'For the first time ever, Turkish state institutions are working in synch to solve the problem,' said Henri Barkey, a Turkish expert at the Carnegie Endowment for International Peace, a Washington-based think tank.

The main catalyst for Turkey's new sense of urgency is Washington's announcement that it plans to pull its soldiers out of Iraq, Turkey's southern neighbor, by 2011.

The planned withdrawal has speeded up a rapprochement between Turkey and Iraqi Kurds, whose relations have been blighted for years by the PKK's use of Iraqi Kurdish mountains for its military bases."
"'There is an economic side to the rapprochement. "Turkey wants to use northern Iraqi gas for Nabucco,' says Bayram Bozyel, a Turkish Kurdish politician, referring to a pipeline project that the US and EU hope will help break a Russian stranglehold on European natural-gas supplies. 'And the [Iraqi] Kurds want to pump gas north.' That would be risky in the midst of a guerrilla war. The PKK claimed responsibility last year for a bomb attack on a major oil pipeline that passes through the same region."
Well worth reading.
Today Russia and Turkey signed a deal to route Russia's South Stream pipeline through Turkey, per Charles Recknagel at RFE/RL.
"'The South Stream pipeline is a much needed project that is particularly important in the context of ensuring the energy security of the whole of Europe and the development of a broad range of ties between Russia and Turkey,' Putin said. 'Our negotiations showed that we can find solutions, together with the Turkish leadership, that open the way to new, large-scale energy projects.'"
7. IRAN LOWERS OFFICIAL PRICE OF OIL SOLD TO ASIA, QATAR LOWERS OFFICIAL PRICE OF OIL, FOLLOWING SAUDI ARAMCO REDUCTION ON PRICE TO ASIA
Yee Kai Pin at Bloomberg reports that the National Iranian Oil Company will reduce the official selling price of Iranian Light into Asia for the first time in four months.
"[NIOC] will set Iranian Light for September at 9 cents a barrel above the average of Persian Gulf benchmarks Oman and Dubai grades, based on a quarterly formula tied to prices set by Saudi Arabian Oil Co. The premium will be down $1.75, or 95%, from August and will be the smallest in seven months."
Meanwhile,
Yee Kai Pin reports that Qatar Petroleum will also reduce the official selling price of Qatari crudes.
"The state-owned company cut its July price of Qatar Land crude oil to $65.50/b, down $5.60 from June, the official Qatar News Agency said on its Web site. The July price of Qatar Marine grade was reduced by $5.38 to $64.72/b. The cuts are the first in five months."
Earlier this week, Saudi Aramco cut its official selling price of Arab Light into Asia--see
Daily Sources 8/3 #6
. (The middle eastern national oil companies have different official prices for different regions of the world.)
8. DUBAI'S PROPERTY PRICE COLLAPSE SHARPEST IN WORLD
Kevin Brass at the New York Times reports that Dubai's property market is leading the world in price collapse.
"Dubai prices have dropped 32% in the last year and 40% in the last quarter, according to the latest edition of the Knight Frank Global House Price Index, released today.

Along with Dubai, Latvia (36%) and Singapore (23.8%) saw the largest declines since the first quarter of 2008, the property firm reports."
9. MEND LEADER INDICATES MOST NIGER DELTA MILITANTS WANT TO TAKE ADVANTAGE OF AMNESTY PROGRAM WHICH OFFICIALLY BEGAN TODAY; ANALYSTS DOUBT DIRE NIGERIAN PRODUCTION NUMBERS
Dulue Mbachu at Bloomberg reports that the leader of Nigerian militant group MEND indicated in a telephone interview that most fighters want to accept the government's amnesty program, saying "Like the government, we also want peace for there to be development."
"A government panel set up last year recommended raising the share of revenue going to states in the oil region to 25% from the current 13%. MEND wants the oil region to control 100% of oil revenue and pay a tax to the central government, according to the group's spokesman, Jomo Gbomo.

'Whatever the people are demanding is also what I want,' Okah said, declining to commit to a figure.

The MEND leader said militant commanders in the oil region are divided between those who want money in exchange for weapons, as offered by the government, and those who want their political demands met.

'Personally I want a situation where weapons will be surrendered without cash,' Okah said. 'Because people can submit their weapons and buy new ones.'"
BBC News reports on the amnesty program which officially began today.
"Officials said gunmen who accept amnesty would be given 65,000 naira ($433; £255) a month for food and living expenses during the rehabilitation program, which runs from 6 August to 4 October.

But the main rebel group in the region, the Movement for the Emancipation of the Niger Delta (MEND), has not yet said it will take part in the amnesty.

'When we choose to disarm, it will be done freely, knowing that the reason for our uprising which is the emancipation of the Niger Delta from neglect and injustice has been achieved,' the group said in statement e-mailed to the AFP news agency.

The group, which called a temporary ceasefire last month after one of its leaders was freed from jail, is in talks with senior officials about the terms of any possible amnesty."
Tom Burgis at FT Energy Source reports that many believe that the current numbers for oil production coming from official Nigerian government sources are deliberately understated.
"On Wednesday afternoon, a Nigerian oil executive speaking in private snorted at the idea that production could be so low, suggesting 1.6m b/d was more accurate. Stewart Williams, principal sub-Saharan Africa analyst at energy consultancy Wood Mackenzie, puts production at 1.5m b/d to 1.6m b/d.

Why the discrepancy? Analysts with a cynical streak (easily acquired in a country so riddled with corruption and electoral violence) remark that it is in the state's interest to create a sense of crisis as it tries to force through a comprehensive reform of the oil sector.

That the bill has merits--including the promise of greater transparency and restructuring the hopelessly ineffective state company--misses the point. Oil companies and the delta's influential governors, who stand to get less cash as a result, are united in opposition to it.

The oil companies, too, are making data scarce at the moment. Like the government, they may have an interest in uncertainty as the negotiations continue."
10. BRAZILIAN SENATE'S INVESTIGATION INTO PETROBRAS TAX EVASION AND CORRUPTION CHARGES BEGIN TODAY, LULA INDICATES THAT HE BACKS FULL CONTROL OF PRE-SALT FOR PETROBRAS
Helder Marinho and Alexander Ragir at Bloomberg report that the Brazilian Senate's investigation into tax evasion and corruption allegations against state oil company Petrobras began today.
"An 11-member Senate committee, led by a member of [Brazilian President Luiz Inacio Lula da Silva's], Workers' Party, is investigating the allegations. [CEO Jose Sergio] Gabrielli told Petrobras's 74,000 employees in a July 14 letter that the company fired three employees after an internal investigation, and cooperated with the prosecutor's office and federal police, into the bidding process for oil platforms.

Gabrielli, Chief Financial Officer Almir Barbassa and Haroldo Lima, the head of Brazil's petroleum regulator, are among officials the committee in charge of the probe will invite to testify, according to a list senators handed to reporters during a session of the probe committee held today.

The officials will not be legally summoned or required to speak under oath, and the hearings will be arranged at their convenience, Senator Romero Juca said today in Brasilia. Juca, the head of the government coalition in the Senate, is responsible for leading the probe and writing its reports. Fired Petrobras executives will not be called to testify, he said."
"Since Lula first took office in January 2003, lawmakers have set up 25 committees to investigate everything from health insurance plans to piracy of industrial goods and corruption, according to CAC Consultoria Politica, a Brasilia-based political consultancy. While some ended without any conclusion, a 2005 investigation into allegations the Workers' Party paid bribes to legislators in exchange for votes in Congress led to the resignation of Lula's chief of staff, Jose Dirceu."
Natuza Nery at Reuters reported yesterday that Lula was to propose to Congress today that Petrobas be the exclusive operator of new offshore sub-salt oil fields.
In June, resolutions were being introduced in the Brazilian Senate to create a new, 100% state-owned company, to lease Brazil's sub-salt fields--see
Daily Sources 6/12 #11
. (A majority of voting shares in Petrobras are owned by the government, but foreign investors own about 60% of its total outstanding stock.)
11. VENEZUELA TO PURCHASE SEVERAL DOZEN TANKS FROM RUSSIA, BANS COLOMBIAN STATE OIL COMPANY FROM PARTICIPATION IN ORINOCO BELT
Fabiola Sanchez at the Associated Press reports that President Hugo Chávez in a news conference yesterday said that Venezuela was going to purchase several dozen Russian tanks in a deal he wants to seal during a visit to Russia in September.
"'We're going to buy several battalions of Russian tanks,' Chavez said ...

Chavez's government has already bought more than $4 billion worth of Russian arms since 2005, including helicopters, fighter jets and Kalashnikov assault rifles.

The socialist leader called Colombia's plan to host more US soldiers a 'hostile act' and a 'true threat' to Venezuela and its leftist allies. He warned that a possible US buildup could lead to the 'start of a war in South America,' but gave no indication that Venezuela's military is mobilizing in preparation for any conflict."
"Cuban ex-President Fidel Castro supported Chavez in a column published Wednesday on the Cubadebate Web site, saying that 'Venezuela isn't arming itself against the sister nation of Colombia, it's arming itself against the (US) empire.'

'The threat ... is directed at all the countries' of South America, Castro wrote."
Meanwhile,
Upstream online reports that Chávez told journalists yesterday that Ecopetrol, Colombia's national oil company, will have no role in developing the Orinoco belt.
"Chávez said ... that Colombia's increased cooperation with the US to fight guerrillas and drugs is part of the US's long- term plan to invade Venezuela and seize the Orinoco Belt."
"Ecopetrol was one of 19 companies that paid $2 million apiece for detailed information on the Carabobo block in the Orinoco Belt."
12. 24% OF OWNER-OCCUPIED HOMES UNDER WATER IN US, PERSONAL SAVINGS RATE INCREASE AHISTORICAL IN FACE OF REDUCED FEDERAL TAX RECEIPTS, AND AS UNEMPLOYMENT LOOKS SET TO CONTINUE TO RISE
Nick Timiraos at Developments reports that 24% of owner-occupied homes had mortgage debt which exceeded the market value of the home in question at the end of June, according to data from Equifax and Moody's Economy.com.
"That number rises to 32% when looking at the share of homeowners with mortgages that don't have equity left in their homes.

Overall, 16 million homeowners are 'upside-down' on their mortgages, up from 10 million, or 15% of owner-occupied homes, one year ago.

Nearly 10% of owner-occupied homes now have mortgage debt with loan-to-value ratios of at least 125%, and roughly half of those homes have mortgage debt with loan-to-value ratios of 150% or more."
In her most recent series of posts,
Rebecca Wilder at News N Economics notes that a) this recession is different from past recessions in the sense that the personal savings rate is trending up:
And b)
that the Daily Treasury Statement of August 4 "shows that the 1-month cumulative sum of income tax receipts (withheld plus paid taxes) is dropping at a 13% annual pace."
She comments:
"This is the most up-to-date macroeconomic information out there, as most of the reports are 1-2 months old at the time of release. And the implication of this DTS is: that personal income and spending, which just released this week for June ... are likely to be weak into July."
In that vein,
Barry Ritholtz links to a graph by Bruce Murray, CEO of WANTED USA, plotting the actual month over month change in non-farm unemployment against year over year percent change in hiring demand:
13. RAIL TRAFFIC VOLUMES BOTTOMED OUT AT 18.9% BELOW LAST YEAR'S NUMBERS
The Railfax report is out today, and seems to indicate that rail traffic volumes have reached a bottom and holding steady at about 18.9% below their seasonal levels.
Their chart for weekly loaded units in North America for the week ended August 1 in four week rolling averages:
Their chart for crushed stone and lumber and wood products, key components in construction, in four week rolling averages for North America: