1.
Stefan Wagstyl at the Financial Times has an analysis of the financial crisis's effect upon Central and Eastern European nations which argues that analysis is unjustly grouping them all as one.
"Pavol Demes, a former Slovak foreign minister and head of the CEE office of the German Marshall Fund, a US think-tank, says: 'People are questioning liberal democracy, the markets and the EU. They see countries like France going for national solutions when international solutions are needed. They feel excluded.'

He and others applaud the Czech Republic, holder of the EU's rotating presidency, for challenging Nicolas Sarkozy, the French president, over suggestions that aid to France's carmakers might be tied to preserving French jobs rather than those the marques provide in central Europe. Mirek Topolanek, Czech prime minister, spoke for many in the CEE region when he said the response of eurozone countries 'has deformed the joint project of the euro more than any other imaginable event'."
"Whatever happens, different countries are likely to go through the crisis with widely differing results. At one extreme are nations under particularly severe financial pressures, headed by Hungary, Latvia and Ukraine, which have secured IMF rescue packages. At the other stand Poland, the Czech Republic and Slovakia, a base of relative economic stability in the central European heartland. Manfred Wimmer, chief financial officer of Erste Group, the Austrian bank with big CEE operations, warns: 'What's been lost in this crisis very often has been the ability of people to differentiate.'"
Well worth reading in full.
2.
Romano Prodi, former prime minister of Italy and president of the European Commission from 1999-2004, has an opinion piece in the Financial Times which argues that the EU should offer sovereign debt, because "a euro spent to defend the EU as a whole has much more value then a euro spent to defend one individual country."
"[Two] decisions must now urgently be taken at the European level.

The first concerns the EU budget, which is today lower than 1 per cent of the European gross domestic product. This budget should be increased to 1.25 per cent when the 2008-09 budget is revised, targeting and binding the extra 0.25 per cent to extraordinary interventions aimed to reduce the tensions in the EU countries. This measure will greatly help in stabilizing European financial markets.

The second decision concerns the issuance of European public debt notes in addition to, rather than as a substitute for, the Treasury bills of the member states. How to issue, control and use these notes should be the sole responsibility of the finance ministers of the eurozone, in strict agreement with the European Central Bank.

These two tools should be used by Europe to ensure it is proactive and does not end up the passive victim of the financial storms afflicting individual countries."

Well worth reading in full.
3.
The Associated Press reports that Naftogaz has asked Gazprom if it could renegotiate its gas contract to take delivery of 33 billion cubic meters, down from the original agreement to take 40.
This follows the news last week that the Ukrainian company had posted on its website notice that it would likely have difficulty meeting its payment obligations to Gazprom given the financial crisis. (see
Daily Sources 2/19 #6
.) A reduction in imports would seem necessitated by the decline in industrial production seen in Ukraine of a startling 28.6% in November alone. GDP decline has also been reported in the double digits and it is unclear whether the IMF has canceled its loan facility to Kiev at this stage or not.
4.
Lyubov Pronina, Torrey Clark and Ellen Pinchuk at Bloomberg report that Arkady Dvorkovich, an economic adviser to President Dmitry Medvedev, told the journalists in an interview that Russia has sufficient oil fund reserves to make it through the rest of the year without selling debt.
"If market conditions will improve, then the government will start borrowing."
5.
Matthew Green at the Financial Times reports that Guy Maurice, managing director of Total Exploration and Production in Nigeria, told an oil and gas conference in Nigeria yesterday that it was ready to participate in the proposed Trans-Saharan natural gas pipeline.
Maurice was quoted as saying:
"Total believes this is a long-term strategic diversification for Nigeria, which is quite interesting. I take this opportunity to mention publicly that Total is ready to become involved in this project."
Diversification away from the US, which is Nigeria's largest export market. A map of the proposed route for the pipeline is below, courtesy of the FT:
The pipeline would deliver between 20 and 30 billion cubic meters of natural gas a year to Europe from Nigeria, via Niger and Algeria, at a projected cost of €15 billion (~ $19.1 billion). No consortium has emerged to actually develop the pipeline so far, however, though in September Gazprom became the first international firm to evince interest in the project by signing a MOU with the Nigerian National Petroleum Corporation.
"Gazprom has [most recently] said it would start work in Nigeria by investing at least $2.5 billion to develop government plans to build a network of pipelines and processing plants to harness gas for local use.

'We're continuing saying that though we are very interested in the Trans-Saharan pipeline, Trans-Saharan starts after the Nigerian gas grid is completed,' Vladimir Ilyanin, managing director of Gazprom's subsidiary in Nigeria, told the conference."
In September, however, the African Union Commission and the European Commission formed an African-EU "energy partnership" which began the consideration of the trans-Saharan idea, which at the time it had put the potential cost at €7 billion (or ~ $8.9 billion in today's dollars)--see
Daily Sources 9/22 #5
.)
6.
Vandana Hari at Platts reports that a 3E Information Development & Consultants report states that China added 800 kb/d in refining capacity in 2008 and looks set to add an additional 1.3 mb/d in 2009.
The report states that total capacity will reach 11.2 mb/d by the end of 2009--a fair bit more than the EIA's latest forecast of Chinese consumption in 2009 of 8.225 mb/d.
"China's secondary refining capacity took an even bigger leap last year, to meet the growing need for light-ends and higher quality fuel in the domestic market, the report said.

Catalytic cracking capacity rose 12.5%, hydrocracking 26.2%, coking 21.3%, reforming 16.8% and hydrotreating 21.3%, 3E said, but did not offer details."
(Catalytic cracking maximizes gasoline production; hydrocracking maximizes diesel and jet fuel production.)
"The Chinese government's stimulus plan for the petrochemicals sector supports refining capacity expansions, 3E noted. 'Quite a few large joint-venture refining and petrochemical projects and giant petrochemical centers with refining capacity of 400,000 to 600,000 b/d each that were previously under early-stage discussions are now officially listed in the state petrochemical rescue plan,' it said."
Given the tremendous amount of additional refining capacity coming online generally all over the Asia Pacific, cracking margins are likely to be very tight--and it will be very unlikely for crude to chase the Asian prices for petroleum products any time soon.
7.
Reggie Le at Platts reports that the China Iron and Steel Association (CISA) revised upwards its forecast of steel consumption in 2009 on the back of the stimulus program to 430 million tonnes (or a 5% annual decline) from 390 million tonnes (about a 13.9% decline).
8.
Henry A. Kissinger has an opinion piece in the Washington Post which argues that the US cannot expect the political environment in Afghanistan to evolve (toward Western norms) at the same rate at which the military situation does.
"Military strategy should concentrate on preventing the emergence of a coherent, contiguous state within the state controlled by jihadists. In practice, this would mean control of Kabul and the Pashtun area. A jihadist base area on both sides of the mountainous Afghan-Pakistani border would become a permanent threat to hopes for a moderate evolution and to all of Afghanistan's neighbors. Gen. David Petraeus has argued that, reinforced by the number of American forces he has recommended, he should be able to control the 10 percent of Afghan territory where, in his words, 80% of the military threat originates. This is the region where the 'clear, hold and build' strategy that had success in Iraq is particularly applicable."
A must read.
9.
Peter Leonard at the Associated Press reports that Kazakhstan announced today that it has withdrawn from the Central Asian power grid, which has forced electricity rationing in northern Kyrgyzstan required to keep the country from overloading its domestic grid.
Kazakhstan indicated that it was forced to withdraw by Tajikistan's continual "siphoning" off the grid.
"'As of Feb. 26, Tajik state energy company has made unscheduled use of 84 million kilowatt hours of electricity,' the state-owned Kazakhstan Electricity Grid Operating Company said."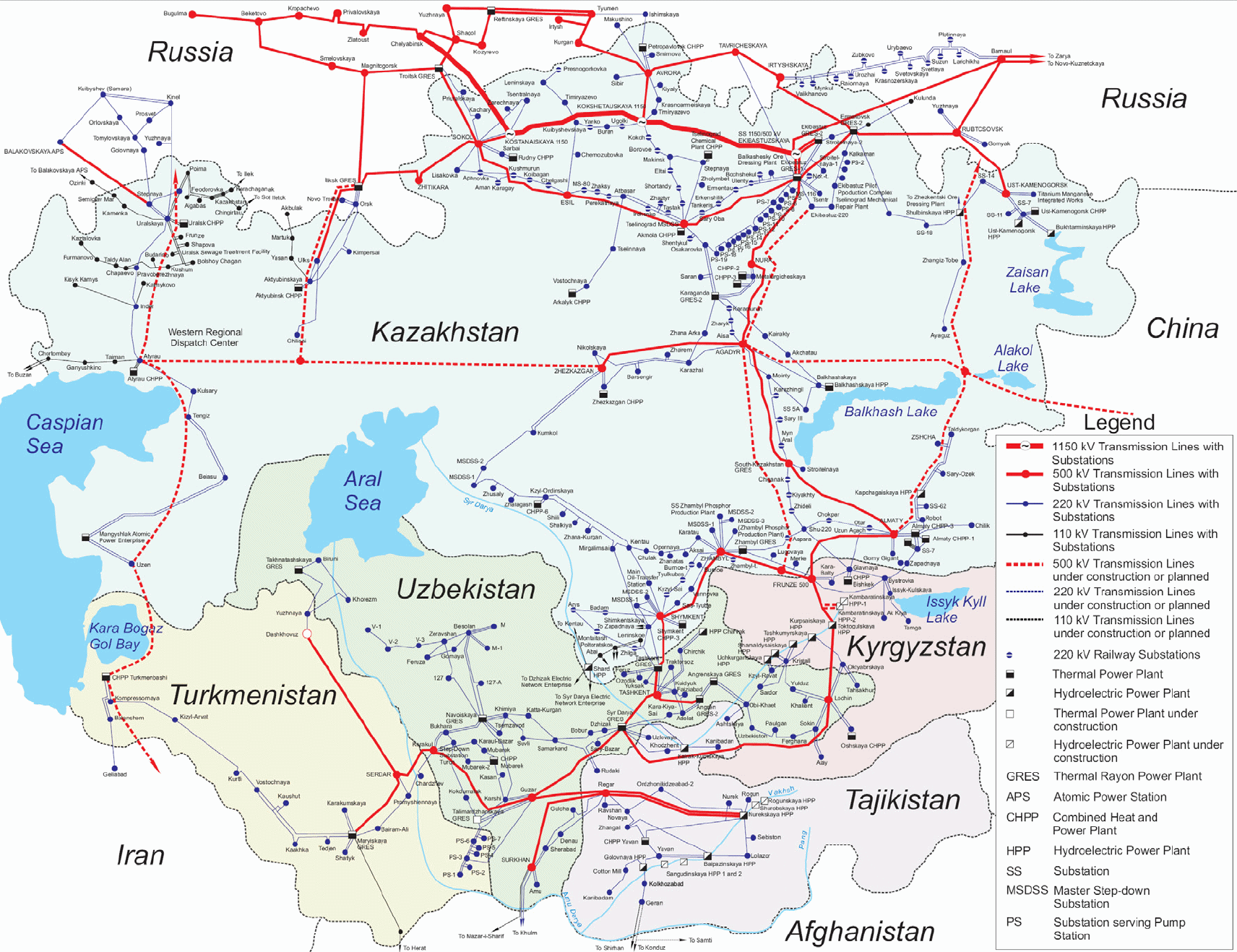 10.
The Associated Press reports that the UAE will cut supply in April by an additional 15-17% of various crude streams, including Murban.
Murban represents about 60% of UAE total production capacity of about 2.55 mb/d. This cut comes on top of the cut announced in December of 15% (see
Daily Sources 12/26 #5
) which may put the volume of Murban ADNOC is supplying at about 1 mb/d and total UAE volumes near 1.6 mb/d, though only an educated guess.
11.
Elzbieta Rabalska at Platts reports that some traders argue the market for sour crudes--dominated by the Middle East--is tight, and that the price of sweet crudes is chasing price increases in the sour market.
"'It's a very tight market led from sour [crude],' one trading source said Thursday. 'It would be tighter if we weren't seeing product come out of storage. It emanates from the East where there is no production and which relies heavily on OPEC production.'"
12.
Lilian Karunungan and Shanthy Nambiar at Bloomberg report that Indonesia's issue of $4 billion in dollar denominated 5 and 10 year sovereign debt was oversubscribed by at least $500 million today.
"'Countries are trying to tap debt markets as quickly as possible in case the situation deteriorates further in the second half,' said Paul Biszko, a senior emerging-markets strategist with RBC Capital Markets in Toronto. 'It doesn't surprise me that Indonesia is trying to issue.'"
The five year debt is yielding between 10.5-10.75% and the ten year debt 11.75-12%.
13.
Janet Porter at Lloyd's List reports that the latest Drewry Container Freight Rate Insight report states that container shipping could see as much as a $68 billion decline in global revenues in 2009, or a fall of a third.
The report says that container freight rates are at their lowest levels ever.
"The 42% collapse in all-in rates from South China to Europe since November has been so shocking that Drewry is asking whether the market has veered out of control."
14.
Shobhana Chandra and Timothy R. Homan at Bloomberg report that first time unemployment claims rose to 667,000 last week, and the number of people still receiving unemployment benefits rose to 5.112 million.
"February payroll figures, due from Labor next week, may show job cuts exceeded half a million for a fourth consecutive month, according to a Bloomberg survey. The unemployment rate probably climbed to 7.9%, the highest level since 1984."
15.
Agence France-Presse reported yesterday that Toshiba won a contract to build two Advanced Boiling Water Reactor (ABWR) nuclear power plants in Texas.
If true, I believe the two plants would be the first nuclear power plants built in the US in 40 years, and the first ever ABWR reactors.
16.
Keith Johnson at Environmental Capital has an interesting post on the efforts of researchers in New Zealand and Australia to reduce the aggregate flatulence of its sheep and cow herds.
"Globally, however, livestock emissions outweigh emissions from the entire transport sector. Add in emissions from deforestation—which is often a consequence of razing trees for fresh pasture land—the plant and animal world makes up about 40% of global greenhouse-gas emissions."
Vegetarianism does more, therefore, for reducing your carbon footprint than driving a Prius. Short and well-worth reading.