1.
President Obama and Canadian Prime Minister Stephen Harper agreed yesterday to establish a senior-level U.S.-Canada Clean Energy Dialogue which will focus cooperation on several issues including
:
"- Expand clean energy research and development
- Develop and deploy clean energy technology
- Build a more efficient electricity grid based on clean and renewable generation"
The two leaders also announced that they would work in tandem at the G-20 summit in April in Trinidad and Tobago to ensure it "contributes to restoring confidence in financial markets." (h/t
Rachel Ziemba at Follow the Money
.)
2.
Edward Hugh at Fistful of Euros reports that the initial Markit euro-zone manufacturing index fell to a record low of 33.6 in February from 34.4 in January.
(Readings above indicate growth; below 50 indicates contraction.) Services PMI also fell to a record low of 38.9 from 42.2 in January. The composite PMI fell to 36.2 from 38.3 in January. This is how well the flash PMIs have tracked actual GDP in the past, courtesy Fistful of Euros:
Christian Reiermann at Der Speigel reports that Peer Steinbrück now believes that the several members of the EU and, more specifically the eurozone, will require bail outs similar to the financial and auto sector rescues:
"But now Steinmeier is creating the impression that some euro zone members may ultimately require the same kind of bailout already seen in the banking industry and manufacturing. It could come at the cost of billions to taxpayers. "The euro-region treaties don't foresee any help for insolvent countries, but in reality the other states would have to rescue those running into difficulty," Steinbrück said.
For German taxpayers, this would be no small sum. If Germany were to pay into a bailout based on its size relative to other euro zone countries, it would be forced to cover one-fourth of the entire tab."
Helful explanatory illustration from Der Spiegel:
Long, but well-worth the read.
3.
Edward Harrison at Credit Writedowns reports that Citibank has cut all lending in Denmark.
"Citigroup has sold its German operations to a French bank and I understand they are cutting credit lines in the UK as well." (h/t
Yves Smith at Naked Capitalism
.)
4.
Sarah Schafer at the Washington Post reports that the Kyrgyz Parliament voted Thursday to end the lease of the Manas air base to the US, leaving the decision in the hands of the President, who, today signed the bill, giving him the power to serve the US with an eviction notice with 180 days to end operations there.
The vote was 78 to 1 in favor of the bill.
Baktybek Abdrisaev, Kyrgyz Ambassador to the US and Canada from 1997 to 2005, has an opinion piece in the Washington Post which states that the base's closure is not primarily due to Russian pressure.
Abdrisaev says the primary reason for it's establishment in the first place was Kyrgyzstan's conflict with the Islamic Movement of Uzbekistan and sympathy for the US following 9/11. I suspect the notion of US dollars flowing into the nation and the signal it would send to nations with which it has boundary issues (ie China) were also primary concerns. Abdrisaev suggests, however, that a primary reason for the ouster is that the US subordinated support for democratic institutions and procedures to its prosecution of the wars in Iraq and Afghanistan, allowing authoritarian elements to grab hold of the tiny mountain nation. There is some truth to this, though I suspect Kyrgyzstan's interests calculation has changed more from events outside the nation than its new government.
One: If the war in Afghanistan is calculated to be more destabilizing than allowing whatever Islamist organization to become its sovereign, then it is in the interests of Moscow and Bishkek to end the NATO presence there.
Two: Bishkek is a poor country in a world without a lot of largesse to spread about just now. Its GDP is $5 billion. Russia's offer of aid was almost half of Kyrgyz GDP--$150 million in aid, forgiveness of $180 million in debt, and $2 billion in loans.
5.
Linda Gradstein at the Washington Post reports that Israeli President Shimon Peres formally asked Likud leader Binyamin Netanyahu to form the next government.
Although Kadima leader Tzipi Livni won more seats in Parliament than Likud, apparently more members of Parliament support Netanyahu for Prime Minister. Livni indicated that she would not join a Netanyahu-led government. Netanyahu had previously indicated that he will not form a coalition with the far right Yisrael Beitenu party led by Avigdor Lieberman, reportedly because Lieberman supports civil marriages in Israel which is anathema to Orthodox support for Netanyahu. All of which is to say that it is unclear whether Netanyahu can at this stage form a governing coalition without Livni or Lieberman and, thus, it might be some time before we see one. Until then, it is unlikely to see a formal cease fire agreement with Hamas.
6.
Reem Khalifa at the Associated Press today reports that Bahrain has halted talks over a natural gas import deal with Iran after former Iranian speaker of the Majlis was quoted in the media saying that Bahrain was Iran's 14th province until 1970.
Bahrain's Foreign Minister Sheik Khalid bin Ahmed al-Khalifa said that the remark was an "infringement of sovereignty" and a "distortion of historical fact."
7.
Henrique Almeida at Reuters reports that Angolan national oil company Sonangol is close to a deal with Sao Tome for producing oil from the tiny island's waters.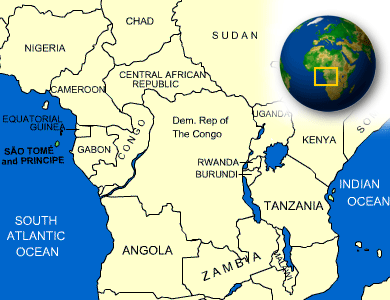 8.
Sharon Schmickle at the Washington Post reports that the re-emergence of the stem rust fungus is threatening wheat production throughout East Africa.
A must read.
9.
Andre Soliani and Joshua Goodman at Bloomberg report that Brazil's unemployment rate has jumped to 8.2% in January from 6.8% according to the national statistics agency.
10.
Paul Krugman of the New York Times highlights the following passage from the minutes of the last FOMC meeting:
"All participants anticipated that unemployment would remain substantially above its longer-run sustainable rate at the end of 2011, even absent further economic shocks; a few indicated that more than five to six years would be needed for the economy to converge to a longer-run path characterized by sustainable rates of output growth and unemployment and by an appropriate rate of inflation."
11.
Shobhana Chandra at Bloomberg reports that the Department of Labor announced today that the consumer price index grew by 0.3% in January.
"Excluding food and fuel, the so-called core rate, prices advanced 0.2%, due to autos, clothing, and medical care. The CPI was unchanged on an annual basis--the first time it hasn't risen since 1955."
12.
Reg Curren at Bloomberg reports that natural gas prices in the US have fallen below $4/MMBtu on the drop in industrial demand, which accounts for about 29% of total natural gas consumption.
GM alone closed most of its 22 plants last month.